Mô tả
WIDEX MOMENT 312D RIC HEARING AID
Widex Moment 312D RIC hearing aid is the latest product of Widex (now is WSAudiology).
About Widex and WSAudiology
– Founded in 1956, in Denmark, Widex is currently one of the best famous hearing aid brands in the world.
– Widex  which merged with Sivantos group to form WS Audiology in 2019, have been continuing to pioneer both of developing a variety of hearing aids and improving technology.
Widex Moment hearing aids 
– Between 2019 and 2020, it marked the outstanding development of Widex's technology. The unique technology platforms are applicated artificial intelligence (AI) with  not only Sound Sense Learn, Zerodelay but also Pure sound and True Acoustic… which have supported Widex to win the CES Innovation Award 2021.
– Widex Moment is the latest hearing aid of Widex. This product includes the most advanced technologies in the world in 2021. It is produced to handle unsolved challenges facing the hearing aid industry such as: improved speech understanding, wind/ noise reduction, automatic sound adjustment, tinnitus, echo, …
SoundSense Learn is used directly on the smartphones

-> create your private hearing programmes 

Puresound is powered by Zerodelay technology, echo cancellation.

->  bringing the best pure and natural sound.

Widex Moment rechargeable hearing aids

 -> being the most popular hearing aid in Europe in 2021 
Widex Moment 312D RIC hearing aids – the best one for people with hearing loss 
Invisible and convenient:
Size of Widex Moment 312D RIC hearing aid is half of a finger. It is definitely the perfect choice for those who are looking for key features such as comfort freedom and aesthetic.
RIC (receiver in the cannal) combines to a little dome which makes the users feeling comfortable and ventilative.
Using Battery size 312. The average life of this battery is absolutely from 7 to 10 days.
Breakthrough technologies – solved all needs of people with impaired hearing:
Thanks to ZeroDelayTM Technology on the Widex Moment platform, Widex Moment 312D RIC hearing aids make a genuine difference to the hearing experiences of real users in real life: purer and more natural sound.
– Environmental sound and Speech sound are gently separated . The users can hear speech clearly while they still listen the other sounds.
– ZeroDelay technology reduces the processing delay between microphone and receiver to below 0.5 miliseconds – equivalents to 1/10 or 1/20 of other hearing aids, results to overcome artefacts from comb filtering due to delaying. Widex PureSound powered by ZeroDelay, is popular with people have mild and moderate hearing loss in Europe and America.
– The sound of Widex Moment 312D RIC is nearly similar to biological ear. It helps the users listen for a long time without getting tired.
Widex Moment Platform
Feedback cancellation, windy noise management, speech enhancement, HD locator, have been significantly upgraded thanks to the optimization of the technology platform.
SoundSense Learn – automatically create suitable hearing programmes:
– With other hearing aids, choosing hearing programmes is limited. The constant program might be unsuitable to the users when they want to change a huge range of real circumstances.
– Soundsense Learn in WM 312D RIC is  definitely a different story. By the Widex Moment App, you can create your own hearing programmes. This software will suggest you 2 sample sounds A and B. You will listen and choose which one is better than the another. The system will analyse and continue to give you suggestions. After 3 or 4 times, you will create the most suitable program for yourself.
– 82% of the users highly appreciate this key feature – SoundSense Learn.
 SoundSense Learn on Widex app
Tinnitus solution – Widex Zen Plus:
One of the best tinnitus treatment on hearing aids
Widex Moment 312D RIC hearing aids are desinged to last battery's life longer and reduce the risk of moiture by IP68 standard (water-resistant & dirt-resistant).
Saving Cost when repairing and upgrading:
This is an unique feature of WM 312D RIC in particular and the style RIC hearing aids in general. With separating the receiver from  the microphone and amplifier, users can upgrade receivers (no need to replace the body part) when the users's hearing get worser.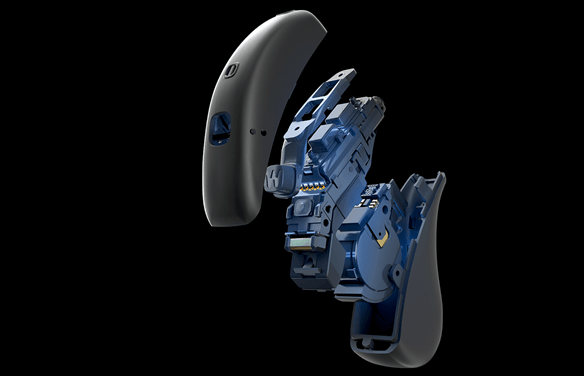 Being a flag-ship product line with the most advanced key features, Widex Moment 312D RIC hearing aids are much cheaper than other products in the same kind. It's price is only 60% of common brands in the current market.
 WIDEX MOMENT 312D RIC hearing aids
Models
Output sound pressure
Channels
Degree of hearing loss
Price (VNĐ/ per)
Warranty (Months)
WIDEX MOMENT M-312 D 110 MRB2D (Battery size 312)

HP 138/84

P 132/70

M 124/69

S 118/62

6
Mild – Profound
19.486.000
Body part 24
WIDEX MOMENT M-312 D 220 MRB2D (Battery size 312)

HP 138/84

P 132/70

M 124/69

S 118/62

10
Mild – Profound
24.837.000
Body part 24
WIDEX MOMENT M-312 D 330 MRB2D (Battery size 312)

HP 138/84

P 132/70

M 124/69

S 118/62

12
Mild – Profound – Severe
34,850,000
Body part 24
WIDEX MOMENT M-312 D 440 MRB2D (Battery size 312)

HP 138/84

P 132/70

M 124/69

S 118/62

15
Mild – Profound – Severe
49,570,000
Body part 24
More information about  hearring aids in  Trợ Thính An Khang
Update the latest information and our promotions in Fanpage Trợ thính An Khang