THE BEST HEARING AID FROM THE WORLD FAMOUS BRANDS
I. Get to know about hearing aid
1. What is a hearing aid?
Hearing Aid (HA) is an excellent partner for hearing loss people to access sound.
2. Kinds of hearing aid?
There are air conduction hearing aid and bone conduction hearing aid. 
Most convention hearing aid is air conduction HA, meaning sound spread through air. This kind of HA is suitable for people with normal ear-shape. 
Bone conduction hearing aid transmits vibration from the HA to the human bone (skull). Patients with abnormal ear-shape, no pinna can be used this.
Base on development of convention HA, there was 3 types:
WIRED HEARING AID
The very first look of old model hearing aid with analog technology. The device included a receiver and transmitter on the ear. Basic function is to make sound louder. In several cases, this type of hearing aid doesn't improve hearing at all.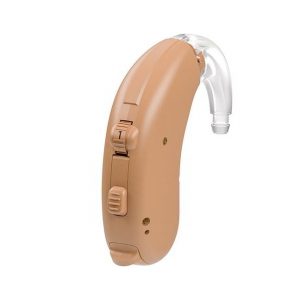 ANALOG HEARING AID (non wired)
This HA is an improvement with more convenient wearing. The device can be switched between sound profiles or adjust sound quality through trimmer nobs. It can improve listening of hearing impaired people. In some cases, the user is not satisfied with sound quality and lead to tired & unhappy.
DIGITAL HEARING AID (non wired)
This is the modern HA, with many features. Improvement features included: - More frequency channels, help to fine tuning to have perfect match with personal hearing loss. - Reduce background noise, feedback cancellation, noise cancellation - Bluetooth connection, FM connection. - Suitable programs base on audiogram and personal needs. - More benefits & features due to technology.
3. Type of modern hearing aids
Modern hearing aid has many types of wearing
– BTE (Behind The Ear): the hearing aid is worn on and behind the pinna. The sound is transmitted through tube with a customized mold put in the ear canal. This type of hearing aid normal has high power (super power, ultra power) of amplification.
– RIC (Receiver In the Canal): same wearing as BTE, however the sound is transmitted through the wire to the receiver (a very small speaker) which is put in the ear canal. This type of hearing aid is smaller than BTE type with varietal power of amplification. This type is the most wanted hearing aid today.
– ITC (In The Canal), ITE (In The Ear), CIC (Complete In the Canal): all-in-one hearing aid with compact size can fit inside the canal. This type of hearing aid bring cosmetic wearing option, however it's limited in power of amplification and features. 
– Bone conduction hearing aid has different wearing than conventional hearing aid. The vibration plate should be place on the area where we can feel bone beneath the very thin skin. And need some accessories to wear like adhesive adaptor, headband, soft-band, spectacle adaptor.
4. High-end hearing aid
High-end hearing aid is modern digital HA with latest technology features to improve listening experience and connection to real world. 
– As many channels as possible – only fitted through PC software. Suitable many degree of hearing loss. Patients can gain hearing with very promising outcome.
– Many listening programs in many hearing situation. These programs can be choose manually or automatically with AI technology. 
– Automatic Feedback cancellation, Automatic Noise cancellation, Wind noise cancellation. Reduce environment noise, optimize speech. Improve speech understanding for hearing impaired person.
– Many connection accessories eg.  TV Dex, Com-Dex remote mic
– Easy connection with smartphone to control, streaming audio
– Some other latest technology up-to-day eg. "Motion regconization technology in Rexton hearing aid", "My Sound technology in Widex using AI", "Operation System design for Children from Phonak"
5. Which hearing aid is suitable for me?
Hearing loss, hearing impaired has many types, degree and configuration. A false HA chosen will lead to worse listening experience, worse hearing loss: 
– Not enough power of amplification will make more effort to hear, then tired, boring, stress
– Higher power than require: higher cost, reduce hearing due to expose to louder sound.
– Frequency specified not match listening needs will lead to poor speech understanding.
– To have the suitable hearing aid: Underwent a diagnostic hearing test  > Choose hearing aid base on audiogram > Fine tuning and fitting > Trial for a period of time.
II. An Khang Audiology's Hearing Aid Intervention
III. AN KHANG AUDIOLOGY's HEARING AID TYPES
At An Khang Audiology, we only offer genuine hearing aid, original import from famous manufacturer – with well-known global brands like WIDEX Denmark – REXTON Germany – BHM Austria – OTICON Denmark – PHONAK Switzerland. 
At An Khang Audiology, you will have:
– Professional hearing care service.
– Free trial hearing aid all famous brands with many options.
– Save cost with our promotion from manufacturer.
– Save cost with upgrading options.
– Excellent after-sale services: FOC follow-up hearing test & fine fitting, discount spare parts in long term.
– Loyalty promotion for return customers, refer new customers.
REFERAL HEARING AIDS AT AN KHANG AUDIOLOGY
– Widex is the world leader manufacturer from Denmark with the best hearing aid brand in the world. Core value of Widex is the Widex Sound bring better speech understanding, reality and natural sound, easy to use user experience. 
– An Khang Audiology is No. 1 WIDEX distributor in Vietnam.
– Rexton is a hearing aid brand owned by Siemens Audiologische Technik GmbH which is Sivantos today.
– With Germany spirit, Rexton hearing aid is always recognized with latest technology, compact design, best sound class, durable and fit more.
– Oticon is known as Denmark Royal Hearing Aid.
– One of the longest hearing aid manufacturer, Oticon has many milestone in hearing aid industry: the first digital hearing aid, the first internet hearing aid
– Phonak is a brand under Sonova – Switzerland and is one of best hearing aid in the world.
– Phonak is well-known with unique technology and nice design.
– Contact Forte is the world first "real digital" bone conduction hearing aid from BHM Tech – Austria. Contact Forte with highest bone conduction power and many wearing options. Available in many countries.
– Aurica is the best brand for low-cost hearing aid from Russia with best sound quality in price range. It's the biggest hearing aid brand in Russia, available more than 20 countries in the world.